Royal Palm Beach AC Services - New AC Installation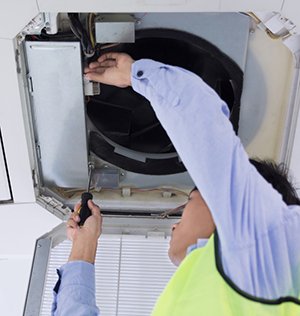 Have you ever bought an expensive phone without reading reviews or asking around for recommendations? Would you ever buy a car without performing your own due-diligence? If the answer to these questions is no, then why would you do the same for your air conditioner? Air conditioners in Royal Palm Beach, FL are not a matter of luxury anymore. They are a necessity that require just as much thought and consultation as all other items that you use on a daily basis. This is where Royal Palm Beach AC Services steps in.
Royal Palm Beach AC Services is a leading provider of AC installation service with guided consultation from experts. When you call us for assistance by dialing 561-414-2156, our experts discuss your requirements at length, do a quick survey of the property, take your budget into account and then make appropriate recommendations that fit your needs accurately. Once you approve of our suggestion, we perform the installation service to ensure maximum efficiency and least operational cost.
COMMON TYPES OF AC WE INSTALL:
Centralized air conditioners:
The name of this unit is self explanatory. The centralized unit in this absorbs the cool air and circulates it throughout the house via the ducts. When the air becomes warm, it is sucked back into the system which carries it to the central unit. Considering the size and complexity of this unit, it requires planning and experience to be installed correctly. This will ensure that the AC bills are in check and the unit performs with optimum efficiency.
Ductless, mini-split ACs:
Small rooms, small houses, or a den in the house can be serviced by this air conditioner. This unit does not require an elaborate ductwork laying. Divided into two units, the AC can be mounted on the wall with ease. The individual rooms have separate access to the cooling temperatures which is perfect for a house with multiple rooms and varied temperature choices.
Window ACs:
ACs are most commonly seen as window ACs jutting out of a window. This absorbs the warm air and emit it out the back while circulating cool air inside the room, making it a perfect choice for small rooms. Window ACs are not a good option for larger rooms because they take longer to cool and uses more energy that can lead to heavy bills.
Portable air conditioners:
Almost like a window air conditioner, the portable air conditioners work on the same dynamics. It sends cool air into the room through its vents and sucks warm air from an exhaust pipe. However, unlike window ACs that are mounted on the wall, portable ones can be easily moved around and work really well for people who move around a lot. They are also a budget friendly option for most people who live in small spaces.
BE IT ANY AC, WE INSTALL IT RIGHT:
Calling Royal Palm Beach AC Services for your AC installation need means that you will get your assistance from the start of the process till the end. All the expert jobs in the process, such as consultation and installation, will be handled by technicians with respective experience and skills. We have years of experience in installing all kinds of units and we do all we can to give you maximum benefit for your investment. From planning to laying the ductwork, there isn't an installation that we cannot handle effectively! So if you are looking for expert assistance to install your air conditioner, you can call us confidently because we know we will do it right.
Need to get a new AC installed in your office or home? Don't choose poorly. Simply dial 561-414-2156 and talk to our installation expert in Royal Palm Beach, FL today!